You can see all our reviews on our Facebook Reviews Page.

Why are reviews so important to us? are they more important than the money, in a short answer yes!

Our only aim is to make your special day shine through photography, InFocus are not in this to be rich, we are in this because we have a genuine passion for photography, and we have a passion for making your day be able to be remembered for years to come through our photos. If our photos fail to please, we have failed, so we take on board all comments, suggestions etc. We listen to what you want in your day, the special things, we go the extra mile that some photographers may not, we will not dictate to you how the photography goes we give suggestions and listen to your replies.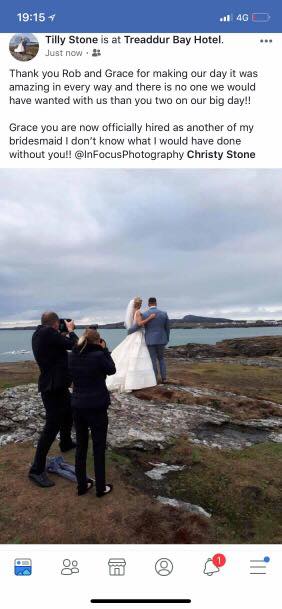 You have a special item of clothing, or shoes, those items that are seriously important to you. InFocus has gone the extra mile to ensure that this one important item shines, we have photographed shoes containing images of lost loved ones, hats worn by family members who have sadly passed away. We want to do these things for you, we want to get things 110% right just for you, it may sound like a cliche and a way of drumming up business, but read our reviews they speak for themselves.